Viktor and Frida Schwindt in Northern Siberia. Fishing was a form of livelihood.
CLICK ON PHOTOS TO ENLARGE
Viktor was born July 23, 1961. He does a wonderful job speaking and writing English!
Viktor Schwindt is the son of Viktor and Frida(Shtol) Schwindt. He resides in Novosibirsk, Siberia. Believe it or not, he says he loves living there. It is a very large city of 1.5 million people.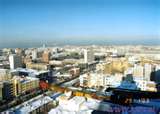 Novosibirsk, the third largest city in Russia, is situated along the Ob River in the Southern part of Siberia. Once known for its timber and fur skins, Novosibirsk has become a large industrial, cultural, scientific, and transportation centre in Eastern Russia. In addition to breathtaking scenery, Novosibirsk offers many cultural and recreational attractions including the Opera and Ballet Theatre, the Philharmonic Society, the Botanical Gardens, and the Zoological Garden.