CLICK ON THE BOTTOM, AND DOUBLE CLICK ON THE BLANK PAGE TO VIEW: The Waterloo Dog Park
(As you view the photos, I'm sure you'll notice that my Ginny is one of the most popular dogs at the park--and the prettiest, of course!)
A dog is one of the remaining reasons why some people can be persuaded to go for a walk.
CLICK ON PHOTOS TO ENLARGE: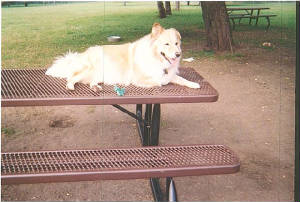 Dogs are not our whole life, but they make our lives whole.
"To sit with a dog on a hillside on a glorious afternoon is to be back in Eden, where doing nothing was not boring - it was peace."
(~Milan Kundera)